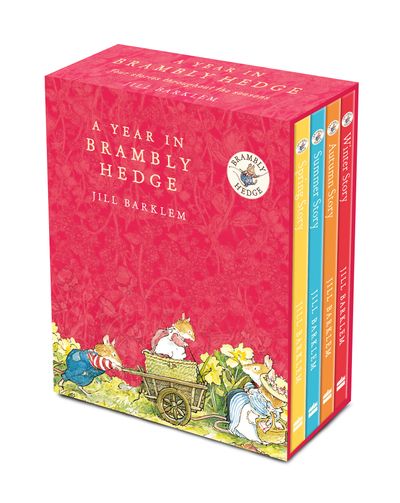 Brambly Hedge - A Year in Brambly Hedge
(Brambly Hedge)
By Jill Barklem, Illustrated by Jill Barklem
Celebrate the 40th anniversary of Brambly Hedge with this exquisite slipcase containing the first four classic picture books.
The mice of Brambly Hedge have many adventures but they always have time for fun too. All through the year, they mark the seasons with feasts and festivities and, of course, the mice never miss an opportunity to meet and celebrate.
This beautifully designed slipcase contains four classic stories following their adventures throughout the year.
In Winter Story a heavy snowfall means the mice can hold a Snow Ball for the first time in years. In Autumn Story Primrose makes friends with the harvest mice before losing her way in the chestnut woods. Wilfred gets a birthday surprise in Spring Story, when all the mice club together to organise a fantastic picnic for him; and in Summer Story, Poppy Eyebright and Dusty Dogwood get engaged and a wonderful wedding is planned by all the mice of Brambly Hedge.
"'…the most researched-crammed fantasy ever set before small children…" - Sunday Times Magazine
"'Spring Story, Summer Story, Autumn Story and Winter Story are beautiful tales…nostalgic Mums can enjoy them with their own kids." - The Sun (Natasha Harding)
"'Incredible illustrations…" - @father_of_daughters, Instagram
"'If I [were] a mouse, this is where I'd wanna live" - @britneyspears, Instagram