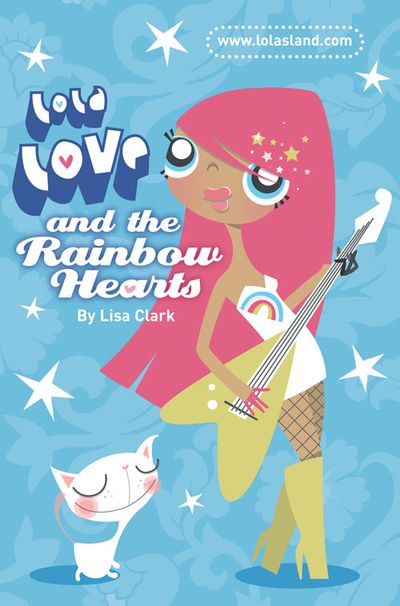 Lola Love - And the Rainbow Hearts
(Lola Love)
By Lisa Clark
Lola and her Pink Ladies are officially a band! But are they good enough to compete in the Missy Magazine Battle of the Bands and meet the super cute, super cool guitar god Tom Tootie?
Join Lola on the another rollercoaster of friendship, guitar strings and pink hairdye!
Lola Love's star is on the up! Now she's rocking out on the gee-tar with new buds Bell, Sadie and her BF Angel, she really feels like she has found her niche.
But will pink hair dye, three chords and a bucket full of positive thinking be enough for their band, The Rainbow Hearts, to win the Missy Magazine Battle of the Bands? Top prize – a meeting with one Mr Tom Tootie – Lola's guitar god idol boy and only boy-type in the whole world yummier than Jake Farrell!
The girls needs to agree on a song and fast or Eva Satine and her band of Negative Ninas will scoop the prize and Lola's brand-spanking new good mood to boot.
The second Lola Love story from the author of cool life guides for today's pink ladies, Think Pink, Beauty*Licious, It's a Girl Thing and Viva la Diva, Lisa Clark, this funny, fearless and fabulous story is the perfect pick me up for anyone a little bit confused about that pesky thing called life.