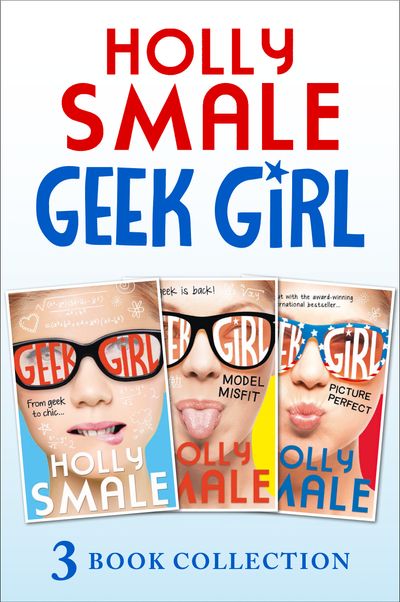 Geek Girl - Geek Girl books 1-3: Geek Girl, Model Misfit and Picture Perfect
(Geek Girl)
By Holly Smale
"My name is Harriet Manners, and I am a geek."
The first three hilarious novels in the award-winning GEEK GIRL series – now available as a 3-book collection.
Geek Girl:
Harriet Manners knows that a cat has 32 muscles in each ear, a "jiffy" lasts 1/100th of a second, and the average person laughs 15 times per day.
But she doesn't know why nobody at school seems to like her.
So when Harriet is spotted by a top model agent, she grabs the chance to reinvent herself…
Model Misfit:
Harriet Manners knows that humans have 70,000 thoughts per day.
She also knows that Geek + Model = a whole new set of graffiti on your belongings.
But Harriet doesn't know where she's going to fit in once the new baby arrives. And with her summer plans ruined, modelling in Japan seems the perfect chance to get away…
Will geek girl find her place on the other side of the world?
Picture Perfect:
Harriet Manners knows that New York is the most populous city in the United States.
She knows that its official motto is 'Ever Upward'.
But she knows nothing whatsoever about modelling in the Big Apple and how her family will cope with life stateside. Or 'becoming a brand' as the models in New York say. And even more importantly, what to do when the big romantic gestures aren't coming your way from your boyfriend…
Does geek girl go too far this time?
The award-winning debut, GEEK GIRL, and brilliant follow-up titles in the bestselling series by Holly Smale.
'Harriet's comical and cringeworthy misadventures in the world of fashion are guaranteed to get you laughing.' The Week Junior -
"'Genius." - MaximumPop!
'You can't fail to like Harriet.' Parents in Touch -
PRAISE FOR GEEK GIRL: -
'Loved GEEK GIRL. Wise, funny and true, with a proper nerd heroine you're laughing with as much as at. Almost.' James Henry, writer of Smack the Pony and Green Wing -
"'A feel-good satisfying gem that will have teens smiling from cover to cover, and walking a little taller after reading" - Books for Keeps
"'I would highly recommend Geek Girl to anyone who likes a good laugh and enjoys a one-of-a-kind story." - Mia,Guardian Children's Books website