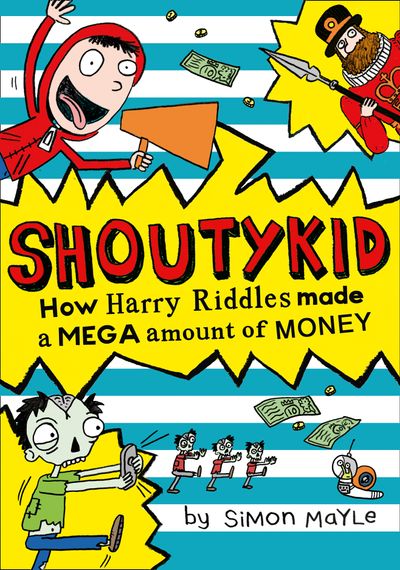 Shoutykid - How Harry Riddles Made a Mega Amount of Money
(Shoutykid, Book 5)
By Simon Mayle
The loudest kid in fiction is back brand-new story. And he's still got a lot to shout about!
(This ebook is optimised for Kindle tablets and the Kindle App. It is not suitable for e-Ink kindle devices, such as the PaperWhite. We recommend you download a sample to your device before purchase if in doubt.)
Harry's school is running out of money and might even have to close but then his friend Jessica tells everyone that Harry will know how raise the money needed to keep it open. The pressure is on. Can Harry save the school? Probably, but first he needs to finish his game of World of Zombies RUN!
Totally awesome…the trials of Harry Riddles life are laugh out loud funny. I could not stop laughing. Go out and grab a copy you won't be disappointed.Leia, age 10 -
If you like Diary of a Wimpy Kid or Tom Gates you will like this book… it's really funny and it made me laugh.Isaac , age 8 -
Unlike any book I've ever read. I loved it!Sam, age 10 -
Awesome, epic, funny and entertaining. I love the way the book is written in the form of letters and emails and texts. I hope that the author writes lots more adventures for Harry.William, age 9 -