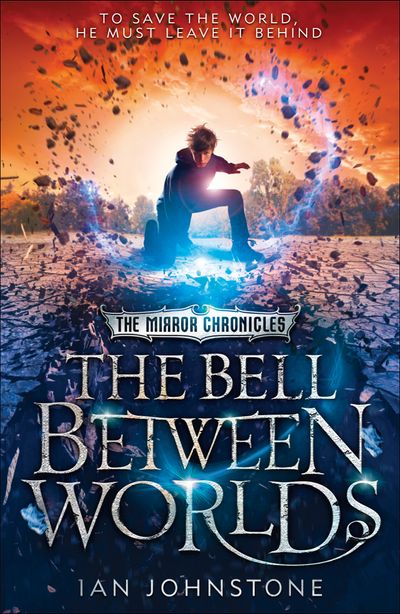 The Mirror Chronicles - The Bell Between Worlds
(The Mirror Chronicles, Book 1)
By Ian Johnstone
A glorious epic fantasy in the grand tradition of CS Lewis and Philip Pullman, and a major publishing event, The Mirror Chronicles will take you into another world, and on the adventure of your lifetime…
Half of your soul is missing.
The lost part is in the mirror.
And unless Sylas Tate can save you, you will never be whole again.
Sylas Tate leads a lonely existence since his mother died. But then the tolling of a giant bell draws him into another world known as the Other, where he discovers not only that he has an inborn talent for the nature-influenced magic of the Fourth Way, but also that his mother might just have come from this strange parallel place.
Meanwhile, evil forces are stirring, and an astounding revelation awaits Sylas as to the true nature of the Other. As violence looms and the stakes get ever higher, Sylas must seek out a girl called Naeo who might just be the other half of his soul – otherwise the entire universe may fall…
"I became totally immersed in an amazing world of painted words … breathtaking and an absolute joy to read… A book that you will reflect on for the rest of your life. Just like when you first read the Hobbit or Sabriel or took your first stroll along the story path of Terry Pratchett… Fantastically exciting… Quite simply… Possibly the best book that I have read - or will read - this year.' Mr Ripley's Enchanted Books -
'Dramatic and with perils that are both real and colourfully described. Highly recommended.' The Bookbag -
"'Not since Harry Potter have I devoured a fantasy world as much as this. Just from this, his debut novel, I can tell Ian Johnstone will sit high up on the fantasy author list at some point soon, I'm certain of it." - Readaraptor
'Outstanding … Epic stuff. This is certainly the best 'classic' fantasy I have come across so far from the last 14 years … Could well prove to be one of the greats of any period.Magic Fiction Since Potter -
"'A beautifully written book, featuring a vividly imagined alternative world… Jaw-dropping." - Through the Gateway
"Johnstone effortlessly conjures up elaborate worlds rich in both magic and fantasy. The Mirror Chronicles has an enchanting quality that is capable of standing shoulder to shoulder with the likes of Chronicles of Narnia and His Dark Materials … The narrative flows with ease and the story maintains excitement right to the end. This highly-charged adventure is a delightful page-turner for both children and adults alike.' Bookseller (We Love This Book) -