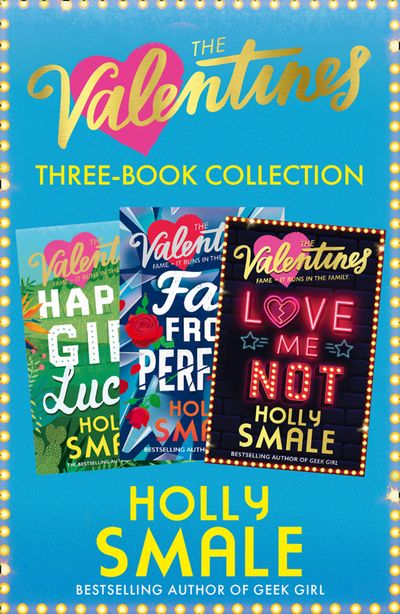 The Valentines 3-Book Collection: Happy Girl Lucky, Far From Perfect, Love Me Not
By Holly Smale
Introducing The Valentines – the hilarious, romantic-comedy series by Holly Smale, author of the bestselling and critically acclaimed Geek Girl books.
HAPPY GIRL LUCKY
Fame – it runs in the family!
The Valentine sisters – Hope, Faith and Mercy – have everything: fame, success, money and beauty. But what Hope wants most of all is love, and it doesn't matter how far she has to go to find it.
Except real life isn't like the movies. Unless of course you're a Valentine . . .
FAR FROM PERFECT
Be yourself but, you know, someone else . . .
Enthusiastic but not desperate; calm but not dull; funny but not try-hard; sparky but not crazy; feisty but not aggressive; beautiful but relatable; elegant but not icy; confident but not arrogant; feminine but not girly; nice but not boring.
Faith Valentine has it all – fame, money and extraordinary beauty. But what she wants more than anything is a quiet life away from the cameras. Except nobody ever asks Faith what she wants, and her family's expectations are crushing her.
The world thinks she's perfect, but is there is more to perfection than meets the eye?
LOVE ME NOT
Party girl actress Mercy Valentine is nobody's hero and that's how she wants it. She's sarcastic, sharp and always defensive – so no one can hurt her ever again. Mercy's starring in a major theatre show and hitting the gossip headlines, but her glamorous world is about to come crashing down. And when Mercy crashes there will be fireworks…
LOVE ME NOT is an eye-opening, heart-warming, darkly funny exploration of what it really means to be famous, and how to heal a broken heart.
"'The high priestess of teen fiction" - Telegraph
PRAISE FOR HAPPY GIRL LUCKY: -
"'A triumph" - The Telegraph
"'Warmth, comedy, smarts" - Observer
"'A must read" - The Times