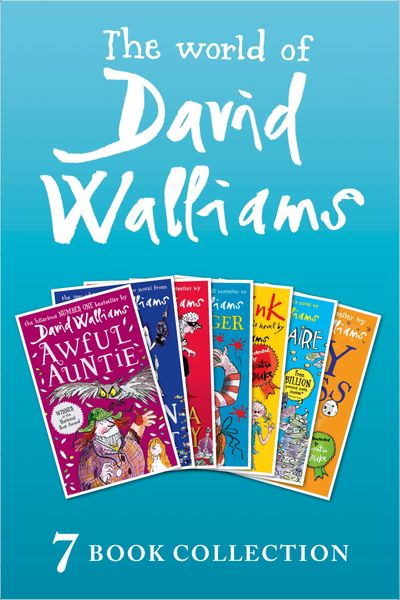 The World of David Walliams: 7 Book Collection
(The Boy in the Dress, Mr Stink, Billionaire Boy, Gangsta Granny, Ratburger, Demon Dentist, Awful Auntie)
By David Walliams, Illustrated by Quentin Blake and Tony Ross
SEVEN hilarious and moving novels from bestselling, critically acclaimed author, David Walliams, PLUS some seriously silly ebook-exclusive material, including an author Q&A, character profiles, awesome activities and much more!
AWFUL AUNTIE:
Stella Saxby is the sole heir to Saxby Hall. But awful aunt Alberta and her giant owl will stop at nothing to get it from her. Luckily Stella has a secret – and slightly spooky – weapon up her sleeve…
DEMON DENTIST:
Strange things were happening in the dead of night. When children put a tooth under their pillow for the tooth fairy, they would wake to find something creepy in its place. Evil was at work. But who or what was behind it?
RATBURGER:
Can Zoe keep her beloved pet rat safe from the clutches of the dastardly Burt of Burt's Burgers?
GANGSTA GRANNY:
Ben's grandma is the boringest grandma ever: all she wants to do is to play Scrabble and eat cabbage soup. But there are two things Ben doesn't know about her.
1) She was once an international jewel thief.
2) All her life, she has been plotting to steal the crown jewels, and now she needs Ben's help…
BILLIONAIRE BOY:
Joe has a lot of reasons to be happy. About a billion of them, in fact.
He has absolutely everything he could possibly want.
But there's just one thing he really needs: a friend…
MR STINK:
Mr Stink stank. He also stunk.
And if it was correct English to say he stinked, then he stinked as well…
But there's more to this vagrant than meets the nose!
THE BOY IN THE DRESS:
Dennis was different.
Why was he different, you ask?
Well, a small clue might be in the title of this book…
"PRAISE FOR DAVID WALLIAMS:'A pleasure to read. A beguilingly funny, original and thought-provoking tale… hilarious" - Amanda Craig, The Times
"'I absolutely love David Walliams's books. In a few more years they will become classics." - Sue Townsend, author of Adrian Mole
"'A triumphant mix of wit and warmth" - Telegraph Books of the Year
"'a new Roald Dahl" - The Times
"'Another triumph for David Walliams. His books are a breath of wonderful fresh air" - The Sun