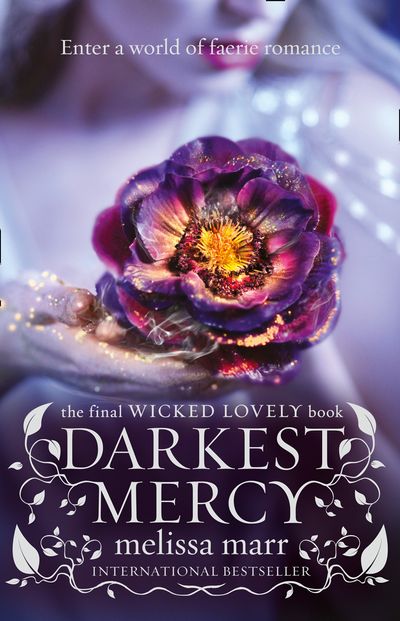 Darkest Mercy
By Melissa Marr
The fifth and final breathtaking instalment in the darkly seductive and best-selling WICKED LOVELY series, about the collision of mortal and faery worlds…
The Summer King is missing; the Dark Court is bleeding; and a stranger walks the streets of Huntsdale, his presence signifying the deaths of powerful fey.
Torn between his new queen and his old love, Keenan left Huntsdale to wander aimlessly but after centuries of leading his court it was not long before the reality of being Summer King became too pressing. Violence seemed more inevitable by the day and the Summer Court was not yet strong enough to face conflict, so Keenan made a dangerous deal with the water fey. It is a desperate bargain he makes to strengthen his court against the coming war. Aislinn tends the Summer Court, searching for her absent king and yearning for Seth. She knows she must be a powerful queen to hold her court together, while Bananach becomes more and more dangerous, and she is losing faeries to her. Donia longs for fiery passion even as she coolly readies the Winter Court for battle. Her court is still powerful, but she must remain focused on keeping them that way and not get distracted by Keenan when he shows up at her door again. The Dark Court is thrown into chaos when they are rocked by tragedy. And Seth, sworn brother of the Dark King and heir to the High Queen, is about to make a mistake that could cost his life.
They all know what Bananach seeks – the raven-faery is the embodiment of war and discord. She and her growing number of allies want mutiny and murder. Love, despair and betrayal ignite the Faeries Courts, and in the final conflict, some will win… and some will lose everything. The thrilling conclusion to Melissa Marr's bestselling Wicked Lovely series will leave readers breathless.
"Praise for 'Wicked Lovely':'Marr offers readers a fully imagined faery world that runs alongside an everyday world, which even non-fantasy (or faerie) lovers will want to delve into." - Publisher's Weekly
"'The fantasy of being pursued by two young men is alluring in itself, but when one is a pierced and tattooed sexy outsider and the other is a blindingly beautiful King of Faery, how much better can it get? Readers will beg for a sequel." - Washington Post
'This is a magical novel… the first book in a trilogy that will guarantee to have you itching for the next instalment. * * * *' Bliss -