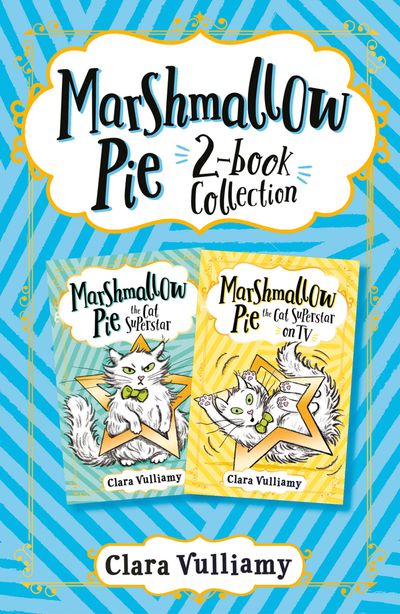 Marshmallow Pie 2-book Collection, Volume 1: Marshmallow Pie the Cat Superstar, Marshmallow Pie the Cat Superstar on TV
By Clara Vulliamy
Books 1 and 2 in the hilarious new series from Clara Vulliamy, the author-illustrator of Dotty Detective, about grumpy cat Marshmallow Pie and his reluctant pursuit of stardom. Perfect for fans of Toto the Ninja Cat or The Secret Life of Pets.
Marshmallow Pie the Cat Superstar
Marshmallow Marmaduke Vanilla-Bean Sugar-Pie Fluffington-Fitz-Noodle is a big, fluffy (and grumpy) cat. He LOVES the easy life: lazing in the sunshine, eating Shrimp Crunchies and annoying Buster, the dog downstairs.
His new owner, Amelia Lime, has grand plans to turn Pie into a STAR… But Pie thinks he's a star already, to be honest!
Marshmallow Pie the Cat Superstar on TV
With the help of his owner, Amelia, Pie is well on his way to stardom. He's got himself a role ON TV! But then he hears that he'll be joined in the spotlight – by Gingernut, the cheeky kitten… Can Pie learn how to share, or will his biggest opportunity yet come tumbling down?
Two hilarious tales told in the voice of Marshmallow Pie himself, his mischievous antics are charmingly illustrated throughout.
Praise for Marshmallow Pie the Cat Superstar -
"'A feline star is born . . . A lovely mixture of appealing, tail-twitching illustrations and impeccable comic timing." - Guardian