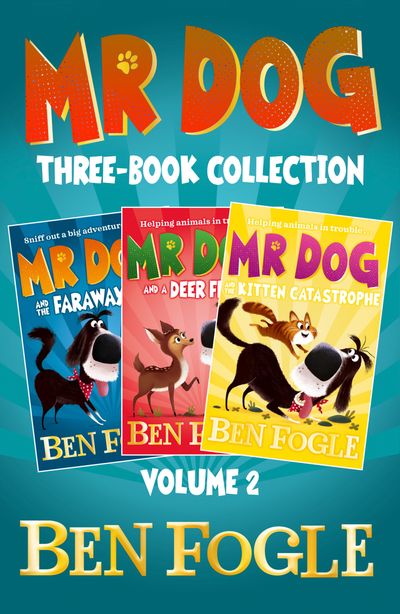 Mr Dog Animal Adventures: Volume 2: Mr Dog and the Faraway Fox, Mr Dog and a Deer Friend, Mr Dog and the Kitten Catastrophe
By Ben Fogle and Steve Cole, Illustrated by Nikolas Ilic
Three delightful Mr Dog adventures by TV broadcaster and intrepid explorer Ben Fogle, inspired by his real-life animal experiences… Co-written with bestselling children's author Steve Cole.
You can always count on Mr Dog to help an animal in trouble.
Mr Dog and the Faraway Fox
When Mr Dog meets a fawn whose forest home is in danger, he know he needs to help… quickly.
As Mr Dog joins the search for the fawn's missing mother, trouble lies ahead for the whole herd. Mr Dog has a plan, though, that might just keep them all out of danger…
Mr Dog and a Deer Friend
When Mr Dog takes a trip into town, he doesn't expect to stay for long. But then he meets a fox who needs his help – a fox who's very far from home…
Mr Dog and the Kitten Catastrophe
When Mr Dog meets a reckless young wildcat called Angus in the woods, he soon makes an important discovery – a whole group of exotic animals are being held in captivity. Mr Dog wants to help them – but will Angus charge in and turn a arescue into a kitten catastrophe?
Praise for the Mr Dog series -
"'Fantastic for reading aloud" - Books for Topics
"'Sensantional!" - Rory, Age 7, National Geographic Kids
"'Ben Fogle's passion for animals and love of adventure have been put to good use in this book, with its cast of loveable animals and I'm looking forward to seeing the series continue." - Parents In Touch