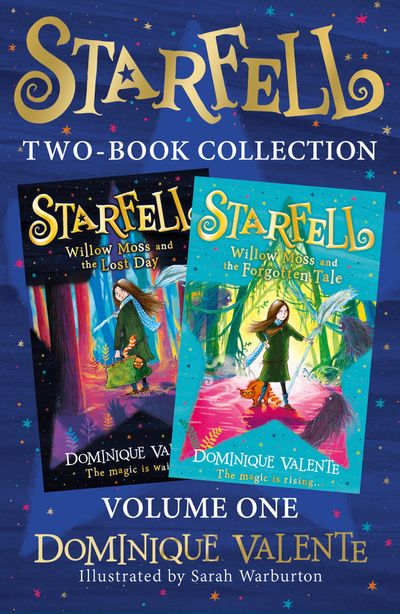 Starfell 2-Book Collection, Volume 1: Starfell: Willow Moss and the Lost Day, Starfell: Willow Moss and the Forgotten Tale
By Dominique Valente, Illustrated by Sarah Warburton
A collection of the first two adventures in the spellbinding children's fantasy series Starfell, featuring beautiful black-and-white inside illustrations by Sarah Warburton. Perfect for readers aged 8 and up.
Starfell: Willow Moss and the Lost Day
Willow Moss, the youngest and least powerful sister in a family of witches, has a magical ability for finding lost things – like keys, or socks, or wooden teeth. Useful, but not exactly exciting . . . Until the most powerful witch in the world of Starfell turns up at Willow's door and asks for her help. A whole day – last Tuesday to be precise – has gone missing. And, without it, the whole universe could unravel. Now Willow holds the fate of Starfell in her rather unremarkable hands . . . Can she save the day – by finding the lost one?
Starfell: Willow Moss and the Forgotten Tale
Willow Moss recently saved the world. The problem is, nobody can remember it – and her magical ability seems broken. Instead of finding lost things, objects keep disappearing against her will … which is especially troubling now that her friend Nolin Sometimes has been mysteriously kidnapped and needs her help! As Willow and her friends piece together what has happened to Sometimes, their adventure takes them from an enchanted tower to the magical forest of Wisperia and into dangerous new realms… Can Willow save her friend when her own powers are out of control?
Praise for Starfell: Willow Moss and the Lost Day -
"'A wonderful book! Packed with fun, inventive magic, and loveable characters" - - Michelle Harrison, author of A Pinch of Magic
"'If you're looking for smart, charming, imaginative fantasy, look no further than Starfell. It's one of those books that immediately makes you feel right at home." - - P. G. Bell, author of The Train to Impossible Places
"'Such a lovely book - fast-paced, funny and charming" - - Robin Stevens, author of Murder Most Unladylike
"'A spellbinding début set in an irresistible magical world." - - Fiona Noble, The Bookseller
"'This is a rip-roaring debut, packed with dragons and trolls, family rivalries and bitter grudges but the lasting message is one of loyalty, hope and the value of being different. With entertaining line drawings by Sarah Warburton, this is a series to watch out for." - - Daily Mail
"'This is glorious - wonderful. A book for everyone, especially those who don't believe they have a talent - who aren't anything special. This is not a book to be ignored." - - Sue Chambers, Waterstones